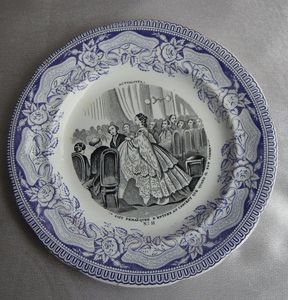 Je pense souvent aux assiettes à décor de Tante Léonie, qui racontent l'histoire des Mille et unes nuits. Quand j'étais enfant, en vacances aux Sables d'Olonne, nous en avions qui racontaient les exploits de Jeanne D'Arc, et j'ai un souvenir précis de la prise d'Orléans; ça me donnerait presque envie de faire les brocantes.
. « Vous n'oublierez pas au moins de me donner mes oeufs à la crème dans une assiette plate ? » C'étaient les seules qui fussent ornées de sujets, et ma tante s'amusait à chaque repas à lire la légende de celle qu'on lui servait ce jour-là. Elle mettait ses lunettes, déchiffrait : Alibaba et quarante voleurs, Aladin ou la Lampe merveilleuse, et disait en souriant : Très bien, très bien. Du côté de chez Swann
I think often of Tante Léonie's plates, that tell stories from Arabian Nights. When I was a child, in vacation in Les Sables d'Olonne, I remember with precision a series of that type of plates on which Jeanne D'Arc' saga was illustrated. It almost gives me the desire to look into flee markets to find that type of china.
"At least, you will not forget to give me my creamed eggs on one of the flat plates?" These were the only plates which had pictures on them and my aunt used to amuse herself at every meal by reading the description on whichever might have been sent up to her. She would put on her spectacles and spell out: "Ali Baba and the Forty Thieves," "Aladdin, or the Wonderful Lamp," and smile, and say "Very good indeed." Swann's Way