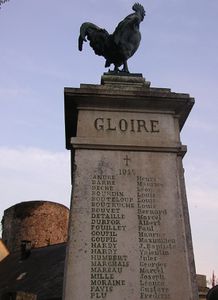 Chacun a son martyr collectif à pleurer et pour ma mère c'étaient surtout les morts de la guerre de 14; elle ne pouvait passer devant un monument aux morts sans s'arrêter, lire les noms, la larme à l'œil, et nous dire: "Il n'y a pas un village en France qui n'ait sa liste de tués à la guerre".
À l'heure du dîner les restaurants étaient pleins et si, passant dans la rue, je voyais un pauvre permissionnaire, échappé pour six jours au risque permanent de la mort, et prêt à repartir pour les tranchées, arrêter un instant ses yeux devant les vitrines illuminées, je souffrais comme à l'hôtel de Balbec quand les pêcheurs nous regardaient dîner, mais je souffrais davantage parce que je savais que la misère du soldat est plus grande que celle du pauvre, les réunissant toutes, et plus touchante encore parce qu'elle est plus résignée, plus noble, et que c'est d'un hochement de tête philosophe, sans haine, que, prêt à repartir pour la guerre, il disait en voyant se bousculer les embusqués retenant leurs tables : « On ne dirait pas que c'est la guerre ici. » Le Temps retrouvé
Everyone has a collective martyr to weep over, and for my mother it was the soldiers killed during the 1st World War. At each monument to the dead she would read the list of the dead, her eyes full of tears, and tell us: "There is no village in France that does not have a tragic list like this".
At dinner-time the restaurants were full and if, passing in the street, I saw a poor fellow home on leave, freed for six days from the constant risk of death, fix his eyes an instant upon the brilliantly illuminated windows, I suffered as at the hotel at Balbec when the fishermen looked at us while we dined. But I suffered more because I knew that the misery of a soldier is greater than that of the poor for it unites all the miseries and is still more moving because it is more resigned, more noble, and it was with a philosophical nod of his head, without resentment, that he who was ready to return to the trenches, observing the embusqués elbowing each other to reserve their tables, remarked: "One would not say there was a war going on here." Time Regained