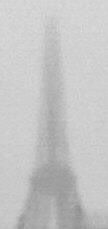 photo de la tour Eiffel par Jean-Marc Kerisit
Averses, bruines, coups de vents, ou, comme je l'ai vu sur un dessin humoristique: "on sent que c'est l'été, la pluie est plus chaude."
Un petit coup au carreau, comme si quelque chose l'avait heurté, suivi d'une ample chute légère comme de grains de sable qu'on eût laissé tomber d'une fenêtre au-dessus, puis la chute s'étendant, se réglant, adoptant un rythme, devenant fluide, sonore, musicale, innombrable, universelle : c'était la pluie. Du côté de chez Swann
Showers, drizzle, gusts of wind, or, as I read it in a cartoon: "one can feel it's summer: the rain is warmer."
A little tap at the window, as though some missile had struck it, followed by a plentiful, falling sound, as light, though, as if a shower of sand were being sprinkled from a window overhead; then the fall spread, took on an order, a rhythm, became liquid, loud, drumming, musical, innumerable, universal. It was the rain. Swann's Way