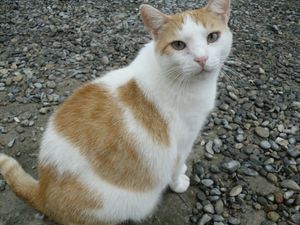 Le chat promeneur, appelé Steve par mes enfants, avait disparu quelques jours, mais hier il est venu gratter à la fenêtre de la cuisine, et comme nous n'avions rien de "spécial chat", à lui donner, James a partagé sa tartine de rillettes de canard avec lui. J'ai pensé à l'héroïne de Baba Yaga, la sorcière russe toute en os, un conte qui m'avait frappée dans mon enfance, qui partageait les miettes de son maigre goûter avec une petite souris qui se réchauffe les pattes, assise sur le rebord de sa tasse de thé.
À partir d'un certain âge nos souvenirs sont tellement entre-croisés les uns avec les autres que la chose à laquelle on pense, le livre qu'on lit n'a presque plus d'importance. On a mis de soi-même partout, tout est fécond, tout est dangereux, et on peut faire d'aussi précieuses découvertes que dans les Pensées de Pascal dans une réclame pour un savon. Albertine disparue
_________________________________________________________________________________
Je serai sur le stand des Editions de la Spirale, au 8ème salon des éditeurs indépendants, lycée Henri IV, Paris 5ème, le samedi 28 et dimanche 29 juin. J'y serai avec Henri Girard, et le samedi à 10h15, j'animerai une table ronde: Proust pour tous: comment faire lire Proust au plus grand nombre.
_________________________________________________________________________________
The wandering cat, named Steve by my children, had disappeared for a few days, and when yesterday he scratched at the kitchen window, as there was no special "cat food" in the house, James shared with him some duck paté (rillettes) . It reminded me of Baba Yaga, a Russian tale that had impressed me a lot in my childhood, and in which a young girl was sharing a poor snack with a little mouse warming up its legs in her cup of tea.
After a certain age our memories are so intertwined with one another that the thing of which we are thinking, the book that we are reading are of scarcely any importance. We have put something of ourself everywhere, everything is fertile, everything is dangerous, and we can make discoveries no less precious than in Pascal's Pensées in an advertisement of soap. The Fugitive