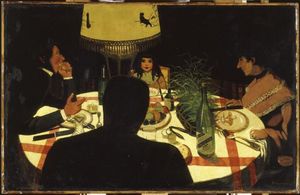 Valloton
Dans un article du New York Times, de ce matin, un article de David Brooks "The Art of Focus", décrit presqu'exactement la joie qu'une conversation sur un sujet passionnant peut apporter à ceux qui y participent, et c'est ce que je tenterai de proposer au public pour la première fois le 4 juillet à 20h, à l'ancienne mairie de Sceaux:
les proustiens et les jours une causerie entre proustiens illustrée par la lecture d'extraits d' A la recherche du temps perdu de Marcel Proust. avec Chantal Charrier, comédienne; Dominique Drouin, écrivain; Henri Girard, cheminot; Laurence Grenier, pharmacienne
«Mon Dieu, mais comme votre présence élève le niveau de la conversation ! » me dit, comme pour s'excuser auprès de Bergotte, Swann qui avait pris dans le milieu Guermantes l'habitude de recevoir les grands artistes comme de bons amis à qui on cherche seulement à faire manger les plats qu'ils aiment, jouer aux jeux ou, à la campagne, se livrer aux sports qui leur plaisent. « Il me semble que nous parlons bien d'art, ajouta-t-il. – C'est très bien, j'aime beaucoup ça », dit Mme Swann en me jetant un regard reconnaissant, par bonté et aussi parce qu'elle avait gardé ses anciennes aspirations vers une conversation plus intellectuelle. A l'ombre des jeunes filles en fleurs
In another thoughtful article,"The Art of Focus" David Brooks describes what I am doing in convesation with proustians like I, a semi organised debate around a topic that eventually brings a deep joy to all of us participants.
"Upon my soul, your presence among us does raise the tone of the conversation!" Swann observed to me, as though to excuse himself to Bergotte; for he had formed the habit, in the Guermantes set, of entertaining great artists as if they were just ordinary friends whom one seeks only to make eat the dishes that they like, play the games, or, in the country, indulge in whatever form of sport they please. "It seems to me that we're talking a great deal of art," he went on. "But it's so nice, I do love it!" said Mme. Swann, throwing me a look of gratitude, as well from good nature as because she had not abandoned her old aspirations towards a more intellectual form of conversation. Within a Budding Grove