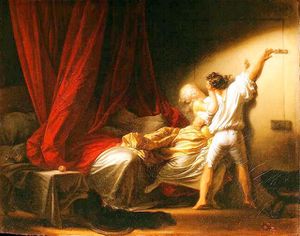 Fragonard
On me dit toujours: "Surtout pas de cohabitation avec Jules!". Je me demande pourquoi, et soudain je pense à ma vie de femme mariée, l'accumulation insidieuse des déceptions, et puis finalement, la perte totale d'intérêt pour l'autre qu'on connaît par coeur, et de l'amour. Mais ça a mis plus de 20 ans!
Nous sommes attirés par toute vie qui nous représente quelque chose d'inconnu, par une dernière illusion à détruire. Le côté de Guermantes
I am often told: "Don't live with Jules!" At first I ask myself why, and the I think of the life I had when I was married, the insidious accumulation of disappointments, and finally a total loss of interest for the one I knew so well; but it took more than 20 years!
We are attracted by any life which represents for us something unknown, by a last illusion still unshattered. The Guermantes Way