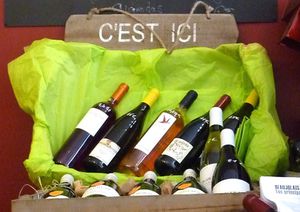 A Sceaux, dans sa cave à vins naturels Jahida reçoit des clients, des amis, des badauds qui viennent se confier à son oreille toujours accueillante et indulgente. Pourtant, comme dans tout commerce, chacun peut entrer chez elle, et elle n'a pas trouvé le moyen de refouler les importuns. Je la vois (car je fais partie des habitués) toujours disponible, toujours avenante...
Chez la princesse de Parme, il y avait une quantité de personnes que l'Altesse recevait parce qu'elle les avait connues enfant, ou parce qu'elles étaient alliées à telle duchesse, ou attachées à la personne de tel souverain, ces personnes fussent-elles laides, d'ailleurs, ennuyeuses ou sottes ; or, pour un Courvoisier la raison « aimé de la princesse de Parme », « nièce par sa mère de la duchesse d'Arpajon », « passant tous les ans trois mois chez la reine d'Espagne », aurait suffi à leur faire inviter de telles gens, mais Mme de Guermantes, qui recevait poliment leur salut depuis dix ans chez la princesse de Parme, ne leur avait jamais laissé passer son seuil, estimant qu'il en est d'un salon au sens social du mot comme au sens matériel où il suffit de meubles qu'on ne trouve pas jolis, mais qu'on laisse comme remplissage et preuve de richesse, pour le rendre affreux. Le côté de Guermantes
In her Sceaux natural wines store, my friend Jahida welcomes all sort of people. As she is a very patient and compassionate listener, but cannot choose who enters her store, she has not found a way to avoid some very annoying or boring customers.
At the Princesse de Parme's parties there were a number of people whom her Royal Highness invited because she had known them as children, or because they were related to some duchess, or attached to the person of some Sovereign, they themselves being quite possibly ugly, boring or stupid; well, with a Courvoisier any of the reasons: "a favourite of the Princesse de Parme," "a niece on the mother's side of the Duchesse d'Arpajon," "spends three months every year with the Queen of Spain," would have been sufficient to make her invite such people to her house, but Mme. de Guermantes, who had politely acknowledged their bows for ten years at the Princesse de Parme's, had never once allowed them to cross her threshold, considering that the same rule applied to a drawing-room in a social as in a material sense, where it only needed a few pieces of furniture which had no particular beauty but were left there to fill the room and as a sign of the owner's wealth, to render it hideous. The Guermantes Way