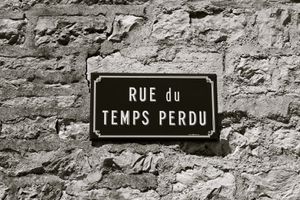 L'une des leçons que j'ai tirées de la lecture de Marcel Proust (Les sept leçons de Marcel Proust), c'est d'incorporer le temps dans tout ce que nous observons, de penser à cette dimension si fondamentale à notre vie et que nous ignorons souvent, par légèreté, dessein ou peur de sa nature fuyante. La littérature a démontré son essentielle utilité en nous fournissant les outils les moins inadéquats dans la lutte pour notre vie, et ce n'est pas un hasard si le chef-d'oeuvre de Proust porte le titre qu'on connaît. RENDEZ-VOUS à la BIBLIOTHEQUE DE SCEAUX, samedi prochain 3 mai à 16h, j'essaierai de vous convaincre de l'urgence.
Théoriquement on sait que la terre tourne, mais en fait on ne s'en aperçoit pas, le sol sur lequel on marche semble ne pas bouger et on vit tranquille. Il en est ainsi du Temps dans la vie. Et pour rendre sa fuite sensible, les romanciers sont obligés en accélérant follement les battements de l'aiguille, de faire franchir au lecteur dix, vingt, trente ans, en deux minutes. Au haut d'une page on a quitté un amant plein d'espoir, au bas de la suivante on la retrouve octogénaire, accomplissant péniblement dans le préau d'un hospice sa promenade quotidienne répondant à peine aux paroles qu'on lui adresse, ayant oublié le passé. A l'ombre des jeunes filles en fleurs
One of the lessons I have drawn from Marcel Proust' reading (The Seven Lessons of Marcel Proust) is to try to incorporate time in all what we live and observe, a fundamental dimension to our lives that we often ignore by fear, purpose or lightness. Literature gives us tool to tackle this intractable issue, and it is no coincidence that Proust' s masterpiece has the title you know.
In theory one is aware that the earth revolves, but in practice one does not perceive it, the ground upon which one treads seems not to move, and one can live undisturbed. So it is with Time in one's life. And to make its flight perceptible novelists are obliged, by wildly accelerating the beat of the pendulum, to transport the reader in a couple of minutes over ten, or twenty, or even thirty years. At the top of one page we have left a lover full of hope; at the foot of the next we meet him again, a bowed old man of eighty, painfully dragging himself on his daily walk about the courtyard of an almshouse, scarcely replying to what is said to him, oblivious of the past. Wihin a Budding Grove