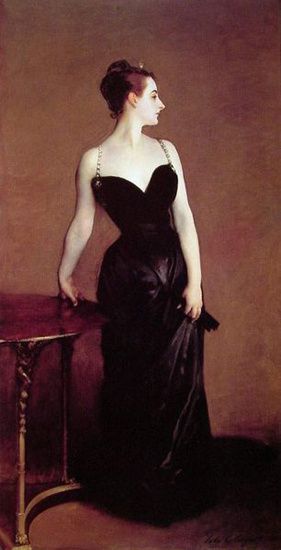 Sargent
Ma fille Gigi (franco-américaine) va aider Anne Charlotte, organisatrice d'un congrès de chirurgie à Paris. Elle s'occupera des congressistes qui ne parlent pas français. Pour cette tâche on lui a demandé de s'habiller en noir et elle m'a consultée: sa robe noire en tulle conviendrait-elle? Je lui ai dit qu'elle serait parfaite (alors que je n'ai aucun souvenir de cette robe, de toutes façons Gigi fera ce qu'elle veut et je ne suis pas l'arbitre des élégances, loin de là).
mais en revanche Swann les toucha infiniment en croyant devoir demander tout de suite à faire la connaissance de la tante du pianiste. En robe noire comme toujours, parce qu'elle croyait qu'en noir on est toujours bien et que c'est ce qu'il y a de plus distingué, elle avait le visage excessivement rouge comme chaque fois qu'elle venait de manger. Elle s'inclina devant Swann avec respect, mais se redressa avec majesté. Comme elle n'avait aucune instruction et avait peur de faire des fautes de français, elle prononçait exprès d'une manière confuse, pensant que si elle lâchait un cuir il serait estompé d'un tel vague qu'on ne pourrait le distinguer avec certitude, de sorte que sa conversation n'était qu'un graillonnement indistinct duquel émergeaient de temps à autre les rares vocables dont elle se sentait sûre. Swann crut pouvoir se moquer légèrement d'elle en parlant à M. Verdurin, lequel au contraire fut piqué. Un amour de Swann
Gigi, my daughter, who will help a friend to welcome foreign guests during a Surgery Convention in Paris, asked me if she could wear for that event a black dress I was supposed to remember: I said yes, when I have no memory of that outfit, but anyway Gigi will do what she wishes and I have no taste for fashion.
On the other hand the Verdurins were extremely touched by Swann's next request, for he felt that he must ask to be introduced to the pianist's aunt. She wore a black dress, as was her invariable custom, for she believed that a woman always looked well in black, and that nothing could be more distinguished; but her face was exceedingly red, as it always was for some time after a meal. She bowed to Swann with deference, but drew herself up again with great dignity. As she was entirely uneducated, and was afraid of making mistakes in grammar and pronunciation, she used purposely to speak in an indistinct and garbling manner, thinking that if she should make a slip it would be so buried in the surrounding confusion that no one could be certain whether she had actually made it or not; with the result that her talk was a sort of continuous, blurred expectoration, out of which would emerge, at rare intervals, those sounds and syllables of which she felt positive. Swann supposed himself entitled to poke a little mild fun at her in conversation with M. Verdurin, who, however, was not at all amused. Swann in love