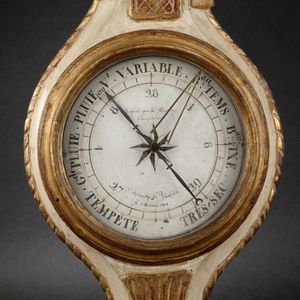 La météo sera bonne cet après-midi sous mon arbre au parc de Sceaux (à 16 h). Plus personne ne consulte le baromètre, il suffit de regarder sur internet, ou à la télé. Et d'ailleurs la météo est sans doute l'émission la plus populaire, malgré les incertitudes à 3-4-5 jours et plus (n'oublions pas que le monde aime mieux croire que savoir), et les chaînes rivalisent d'ingéniosité pour vous faire prendre des décisions aussi stratégiques que pique-nique ou pas, Proust sous un arbre, sous un parapluie ou allongé dans l'herbe.
C'était assez que je ressemblasse avec exagération à mon père jusqu'à ne pas me contenter de consulter comme lui le baromètre, mais à devenir moi-même un baromètre vivant ; c'était assez que je me laissasse commander par ma tante Léonie pour rester à observer le temps, de ma chambre ou même de mon lit, voici de même que je parlais maintenant à Albertine, tantôt comme l'enfant que j'avais été à Combray parlant à ma mère, tantôt comme ma grand'mère me parlait. Quand nous avons dépassé un certain âge, l'âme de l'enfant que nous fûmes et l'âme des morts dont nous sommes sortis viennent nous jeter à poignée leurs richesses et leurs mauvais sorts, demandant à coopérer aux nouveaux sentiments que nous éprouvons et dans lesquels, effaçant leur ancienne effigie, nous les refondons en une création originale. Tel, tout mon passé depuis mes années les plus anciennes, et par delà celles-ci, le passé de mes parents, mêlaient à mon impur amour pour Albertine la douceur d'une tendresse à la fois filiale et maternelle. Nous devons recevoir dès une certaine heure tous nos parents arrivés de si loin et assemblés autour de nous. La prisonnière
The weather should be fair this afternoon in the Parc de Sceaux (where I will speak at 4 pm). Noboby checks anymore the forecast on a barometer, there is internet, or television. By the way weather forecast is probably the most popular program, in spite of uncertainties at 3-4-5 days...but it is well documented that believing is more popular than knowing, and television channels compete to help you to make your strategic decision, like a picnic or not, or Proust under a tree, an umbrella or laying in the grass.
It was quite enough that I should bear an exaggerated resemblance to my father, to the extent of not being satisfied like him with consulting the barometer, but becoming an animated barometer myself; it was quite enough that I should allow myself to be ordered by my aunt Léonie to stay at home and watch the weather, from my bedroom window or even from my bed; yet here I was talking now to Albertine, at one moment as the child that I had been at Combray used to talk to my mother, at another as my grandmother used to talk to me. When we have passed a certain age, the soul of the child that we were and the souls of the dead from whom we spring come and bestow upon us in handfuls their treasures and their calamities, asking to be allowed to cooperate in the new sentiments which we are feeling and in which, obliterating their former image, we recast them in an original creation. Thus my whole past from my earliest years, and earlier still the past of my parents and relatives, blended with my impure love for Albertine the charm of an affection at once filial and maternal. We have to give hospitality, at a certain stage in our life, to all our relatives who have journeyed so far and gathered round us. The Captive