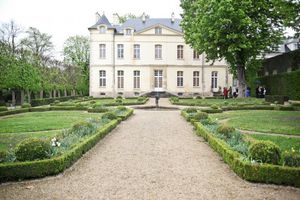 Demain dimanche 2 mars à 16H, entrée du "Petit château", 9 rue du Dr Berger ( quand on regarde le portail de l'église de Sceaux, c'est tout de suite à droite). Aussitôt entrés dans le parc vous verrez une pièce d'eau. Nous y serons tout près, sous un beau chêne.
Procrastination malheureuse: peut-on parler ainsi quand on se réveille très tôt, on se dit qu'on ferait bien de lire, d'écrire sur son blog; on sait qu'on ne se rendormira pas, mais on reste là, allongé, on cherche à trouver l'énergie pour se lever, on pense à Jules qui, au premier coup de la sonnette du réveil, depuis 40 ans sans faillir, aurait déjà sauté du lit, et finalement on accepte d'être faible, on se dit que c'est ça être humain.
Peut-être l'habitude que j'avais prise de garder au fond de moi certains désirs, désir d'une jeune fille du monde comme celles que je voyais passer de ma fenêtre suivies de leur institutrice, et plus particulièrement de celle dont m'avait parlé Saint-Loup, qui allait dans les maisons de passe ; désir de belles femmes de chambre, et particulièrement celle de Mme Putbus ; désir d'aller à la campagne au début du printemps, revoir des aubépines, des pommiers en fleurs, des tempêtes ; désir de Venise, désir de me mettre au travail, désir de mener la vie de tout le monde ; – peut-être l'habitude de conserver en moi sans assouvissement tous ces désirs, en me contentant de la promesse, faite à moi-même, de ne pas oublier de les satisfaire un jour ; – peut-être cette habitude, vieille de tant d'années, de l'ajournement perpétuel, de ce que M. de Charlus flétrissait sous le nom de procrastination, était-elle devenue si générale en moi qu'elle s'emparait aussi de mes soupçons jaloux... La prisonnière
Unhappy procrastination: is it the right expression to use when one wakes up very early, and says to oneself: "I will read, write on my blog" one knows that sleep will not come back but one keeps laying in bed, trying unsuccessfully to find the energy to quickly get up, as Jules has done it for forty years without a hint of protest. But one thinks: "Perhaps am I just human?"
Perhaps the habit that I had formed of nursing in my bosom several simultaneous desires, a desire for a young girl of good family such as I used to see pass beneath my window escorted by her governess, and especially of the girl whom Saint-Loup had mentioned to me, the one who frequented houses of ill fame, a desire for handsome lady's-maids, and especially for the maid of Mme. Putbus, a desire to go to the country in early spring, to see once again hawthorns, apple trees in blossom, storms at sea, a desire for Venice, a desire to settle down to work, a desire to live like other people — perhaps the habit of storing up, without assuaging any of them, all these desires, contenting myself with the promise, made to myself, that I would not forget to satisfy them one day, perhaps this habit, so many years old already, of perpetual postponement, of what M. de Charlus used to castigate under the name of procrastination, had become so prevalent in me that it assumed control of my jealous suspicions also... The Captive