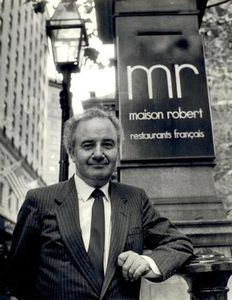 J'ai appris par Christine, une amie de Boston, que Lucien Robert, qui pendant des décennies avait tenu "le" restaurant français de la ville, venait de mourir. Un homme extrêmement spirituel, dévoué et modeste, aimé de tous les Français de la région. Et mon passé bostonien (15 ans) m'est revenu, avec les dîners mensuels du vendredi, "la table française", un de mes rendez-vous favoris, une sorte de "mercredi de Mme Verdurin" qui mélangeait Français et Américains voulant pratiquer notre langue (on évitait de s'assoir près des débutants qui ânonnaient), une madeleine qui, chez "Maison Robert", s'appelait la tarte tatin.
Les instants que j'avais vécus auprès de cette Albertine-là m'étaient si précieux que j'eusse voulu n'en avoir laissé échapper aucun. Or parfois, comme on rattrape les bribes d'une fortune dissipée, j'en retrouvais qui avaient semblé perdus : en nouant un foulard derrière mon cou au lieu de devant, je me rappelai une promenade à laquelle je n'avais jamais repensé et où, pour que l'air froid ne pût venir sur ma gorge, Albertine me l'avait arrangé de cette manière après m'avoir embrassé. Cette promenade si simple, restituée à ma mémoire par un geste si humble, me fit le plaisir de ces objets intimes ayant appartenu à une morte chérie, que nous rapporte la vieille femme de chambre et qui ont tant de prix pour nous ; mon chagrin s'en trouvait enrichi, et d'autant plus que, ce foulard, je n'y avais jamais repensé. Albertine disparue
Christine, an old friend from Boston, wrote me that Lucien Robert had just passed away. He was the owner, for decades, of "the" French restaurant of the town. A very witty, loyal, modest man, Lucien was loved by the whole French community. And my past in Boston (15 years) came back to me, with the monthly "table française", one of my favorite meeting places (a "Mme Verdurin's Wednesday" of sort), a place where French and American guests were discussing in our langage, a madeleine that, at "Maison Robert", had for name the specialty of the place: its famous tarte tatin.
The moments which I had spent with this Albertine were so precious to me that I would not have let any of them escape me. Now, at times, as we recover the remnants of a squandered fortune, I recaptured some of these which I had thought to be lost; as I tied a scarf behind my neck instead of in front, I remembered a drive of which I had never thought again, before which, in order that the cold air might not reach my throat, Albertine had arranged my scarf for me in this way after first kissing me. This simple drive, restored to my memory by so humble a gesture, gave me the same pleasure as the intimate objects once the property of a dead woman who was dear to us which her old servant brings to us and which are so precious to us; my grief found itself enriched by it, all the more so as I had never given another thought to the scarf in question. The Fugitive