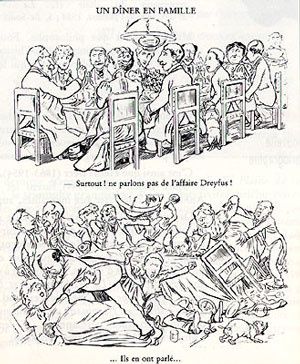 La "quenelle", et toutes les opinions qui la concernent, voici, en moins grave des relents de l'antisémitisme mis à nu pendant l'affaire Dreyfus. Heureusement il n'y a que violence verbale, mais surtout il ne faut pas déraper, par amour de la discussion politique enfiévrée, un art français à double tranchant...
— Je ne discuterai pas politique avec vous, Froberville, dit M. de Guermantes, mais, pour ce qui concerne Swann, je peux dire franchement que sa conduite à notre égard a été inqualifiable. Patronné jadis dans le monde par nous, par le duc de Chartres, on me dit qu'il est ouvertement dreyfusard. Jamais je n'aurais cru cela de lui, de lui un fin gourmet, un esprit positif, un collectionneur, un amateur de vieux livres, membre du Jockey, un homme entouré de la considération générale, un connaisseur de bonnes adresses qui nous envoyait le meilleur porto qu'on puisse boire, un dilettante, un père de famille. Ah! j'ai été bien trompé. Je ne parle pas de moi, il est convenu que je suis une vieille bête, dont l'opinion ne compte pas, une espèce de va-nu-pieds, mais rien que pour Oriane, il n'aurait pas dû faire cela, il aurait dû désavouer ouvertement les Juifs et les sectateurs du condamné. «Oui, après l'amitié que lui a toujours témoignée ma femme, reprit le duc, qui considérait évidemment que condamner Dreyfus pour haute trahison, quelque opinion qu'on eût dans son for intérieur sur sa culpabilité, constituait une espèce de remerciement pour la façon dont on avait été reçu dans le faubourg Saint–Germain, il aurait dû se désolidariser. Car, demandez à Oriane, elle avait vraiment de l'amitié pour lui.» La duchesse, pensant qu'un ton ingénu et calme donnerait une valeur plus dramatique et sincère à ses paroles, dit d'une voix d'écolière, comme laissant sortir simplement la vérité de sa bouche et en donnant seulement à ses yeux une expression un peu mélancolique: «Mais c'est vrai, je n'ai aucune raison de cacher que j'avais une sincère affection pour Charles!— Là, vous voyez, je ne lui fais pas dire. Et après cela, il pousse l'ingratitude jusqu'à être dreyfusard!» Sodome et Gomorrhe II,I
The "quenelle" (a gesture irrespectful of Jews,recently invented by a French humorist); everybody speaks of it, everybody has an opinion, there is a flavor of anisemitism redux, that was so destructive during the famous Dreyfus Affair; The French, masters in futile and sometimes violent political discussions, should beware...
"I shall not discuss politics with you, Froberville," said M. de Guermantes, "but, so far as Swann is concerned, I can tell you frankly that his conduct towards ourselves has been beyond words. Introduced into society, in the past, by ourselves, by the Duc de Chartres, they tell me now that he is openly a Dreyfusard. I should never have believed it of him, an epicure, a man of practical judgment, a collector, who goes in for old books, a member of the Jockey, a man who enjoys the respect of all that know him, who knows all the good addresses, and used to send us the best port wine you could wish to drink, a dilettante, the father of a family. Oh! I have been greatly deceived. I do not complain for myself, it is understood that I am only an old fool, whose opinion counts for nothing, mere rag tag and bobtail, but if only for Oriane's sake, he ought to have openly disavowed the Jews and the partisans of the man Dreyfus. "Yes, after the friendship my wife has always shewn him," went on the Duke, who evidently considered that to denounce Dreyfus as guilty of high treason, whatever opinion one might hold in one's own conscience as to his guilt, constituted a sort of thank-offering for the manner in which one had been received in the Faubourg Saint-Germain, "he ought to have disassociated himself. For, you can ask Oriane, she had a real friendship for him." The Duchess, thinking that an ingenuous, calm tone would give a more dramatic and sincere value to her words, said in a schoolgirl voice, as though she were simply letting the truth fall from her lips, merely giving a slightly melancholy expression to her eyes: "It is quite true, I have no reason to conceal the fact that I did feel a sincere affection for Charles!" "There, you see, I don't have to make her say it. And after that, he carries his ingratitude to the point of being a Dreyfusard!" Cities of the Plain