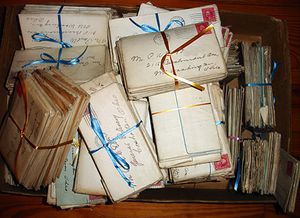 Une amie de longue date vient de me raconter qu'en rangeant son grenier elle est tombée sur un paquet de lettres que son mari avait gardées, une correspondance avec une maîtresse de plus de 10ans (elle savait qu'il avait eu cette liaison mais pensait qu'elle n'avait duré qu'à peu près 5 ans). Quel coup de poignard, malgré le temps écoulé depuis... Tout était remonté, les souvenirs, les angoisses, le chagrin.
j'aurais voulu non pas arracher sa robe pour voir son corps, mais, à travers son corps, voir tout ce bloc-notes de ses souvenirs et de ses prochains et ardents rendez-vous. La prisonnière
An old girlfriend just told me how, as she was cleaning her attic, she found a bundle of letters that her husband had kept, letters from his lover of more than 10 years (while she thought that the affair had lasted 5 years at most). What a stabbing in her heart, in spite of the time elapsed since... All had come back, the memories, the anguish, the grief.
I would have wished not to tear off her garments so as to see her body but through her body to see and read that memorandum block of her memories and her future, passionate engagements. The Captive