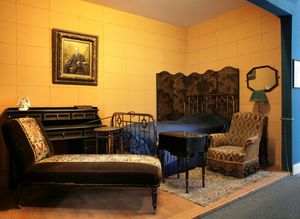 chambre de Marcel Proust, musée Carnavalet
Les hommes et les femmes se comprennent bien peu, c'est (d'après Jules, pas moi) pourquoi ils s'attirent comme un aimant et de la limaille de fer. Pourtant ils s'influencent fortement (en tous cas Jules m'influence... pas sûr pour la réciproque) et je me prends à louer les travailleurs acharnés, ou à accepter que l'incompréhension entre amants soit une source d'intérêt sans cesse renouvelée, l'une des mille raisons fallacieuses qu'invoquent les hommes pour préserver ce qu'ils peuvent de liberté. Je me demande si je ne vais pas finir par croire, comme Jules, que la vie, absurde et loufoque selon moi, ne mérite pas d'être prise plus au sérieux.
Du reste, vous n'avez pas remarqué qu'elle s'était mise à prendre vos manières de parler, de raisonner ? Surtout quand elle venait de vous quitter, c'était frappant. Elle n'avait pas besoin de nous dire si elle vous avait vu. Quand elle arrivait, si elle venait d'auprès de vous, cela se voyait à la première seconde. Nous nous regardions entre nous et nous riions. Elle était comme un charbonnier qui voudrait faire croire qu'il n'est pas charbonnier. Il est tout noir. Un meunier n'a pas besoin de dire qu'il est meunier, on voit bien toute la farine qu'il a sur lui ; il y a encore la place des sacs qu'il a portés. Andrée, c'était la même chose, elle tournait ses sourcils comme vous, et puis son grand cou, enfin je ne peux pas vous dire. Quand je prends un livre qui a été dans votre chambre, je peux le lire dehors, on sait tout de même qu'il vient de chez vous parce qu'il garde quelque chose de vos sales fumigations. C'est un rien, mais c'est un rien, au fond, qui est assez gentil. La prisonnière
Men and women understand very little of each other, that's why - according to Jules - they attract each other as iron and magnet. However they are influenced by their life together (at least Jules influence a lot my judgement. Is it reciprocal? not so sure). And I find myself surprised to praise hard work - Jules' disease - or to accept the lack of comprehension between genders as a positive force between lovers, when I used to think that it was one of the thousand dubious reasons given by men to preserve a rest of freedom. I wonder if, like Jules, I will eventually not find that life is to be taken seriously.
Do you mean to say you never noticed how she used to copy all your ways of talking and arguing? When she had just been with you, it was too obvious. She had no need to tell us whether she had seen you. As soon as she joined us, we could tell at once. We used to look at one another, and laugh. She was like a coalheaver who tries to pretend that he isn't one. He is black all over. A miller has no need to say that he is a miller, you can see the flour all over his clothes; and the mark of the sacks he has carried on his shoulder. Andrée was just the same, she would knit her eyebrows the way you do, and stretch out her long neck, and I don't know what all. When I take up a book that has been in your room, even if I'm reading it out of doors, I can tell at once that it belongs to you because it still reeks of your beastly fumigations. It's only a trifle, still it's rather a nice trifle, don't you know. The Captive