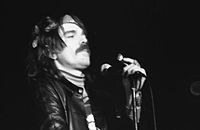 James, qui va sortir son premier album de rock dans les jours qui viennent, m'a confirmé qu'en rock comme en musique classique, certains morceaux ne dévoilent pas leurs plus beaux trésors d'emblée. A ma question: de quel morceau par quel groupe pourrait-il illustrer cette vérité? il n'a pas hésité: Captain Beefheart, ici enregistré à Cannes (où je suis née, pendant les vacances d'été).
Dans la Sonate de Vinteuil, les beautés qu'on découvre le plus tôt sont aussi celles dont on se fatigue le plus vite et pour la même raison sans doute, qui est qu'elles diffèrent moins de ce qu'on connaissait déjà. Mais quand celles-là se sont éloignées, il nous reste à aimer telle phrase que son ordre trop nouveau pour offrir à notre esprit rien que confusion nous avait rendue indiscernable et gardée intacte; alors elle devant qui nous passions tous les jours sans le savoir et qui s'était réservée, qui pour le pouvoir de sa seule beauté était devenue invisible et restée inconnue, elle vient à nous la dernière. Mais nous la quitterons aussi en dernier. Et nous l'aimerons plus longtemps que les autres, parce que nous aurons mis plus longtemps à l'aimer. A l'ombre des jeunes filles en fleurs
James, who will release his first rock album within days, has confirmed that in rock as in classical music, some pieces don't unveil at first their best beauties. To my question: "what band could best illustrate that truth ?" he answered: Captain Beefheart , here recorded in Cannes (where I was born during summer vacations).
In Vinteuil's sonata the beauties that one discovers at once are those also of which one most soon grows tired, and for the same reason, no doubt, namely that they are less different from what one already knows. But when those first apparitions have withdrawn, there is left for our enjoyment some passage which its composition, too new and strange to offer anything but confusion to our mind, had made indistinguishable and so preserved intact; and this, which we have been meeting every day and have not guessed it, which has thus been held in reserve for us, which by the sheer force of its beauty has become invisible and has remained unknown, this comes to us last of all. But this also must be the last that we shall relinquish. And we shall love it longer than the rest because we have taken longer to get to love it. Within a Budding Grove