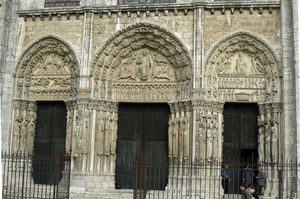 Hier, dimanche; Jules m'a emmenée dans sa nouvelle auto à Chartres, avec l'intention de suivre une visite commentée de la cathédrale (suite du blog du 15 décembre). C'était bouleversant de beauté, d'intelligence, on sentait bien que tout l'esprit du Moyen-Age se concentrait sur la religion, honorée par un art resplendissant et foisonnant de codes.
Parmi les liens que je ne peux m'empêcher de faire j'ai pu apprécier que le choix que j'avais fait de "SEPT leçons de Marcel Proust" était tout à fait excitant 7 étant la résultante de 3 (la divinité) + 4 (les 4 éléments terrestres: terre, eau, air et feu), symbole encore exprimé par la rosace (divine) inclue dans un carré de pierre (terrestre).
J'ai aussi été convaincue que Proust avait réellement bâti son roman comme une cathédrale, et ça m'a fait plaisir de savoir qu'Illiers-Combray était tout proche, ce qui permet aux touristes un double intérêt lors de la visite de la maison de Tante Léonie, certes intéressante, mais moins que la cathédrale voisine...
Et le sommet de cette magnifique journée fut atteint vers 23h30 lorsque James se mit à la guitare électrique (surpise !)et joua une nouvelle chanson pour son groupe de rock KIMBERLY (j'espère aller le voir bientôt donner son premier concert). Son chant mélodieux me rappela les personnages du portail royal de la cathédrale jouant pour la gloire de dieu, mais surtout, dixit la guide, la gloire des mathématiques. Un langage d'après elle très important au Moyen-Age.
Et de même que certains êtres sont les derniers témoins d'une forme de vie que la nature a abandonnée, je me demandais si la musique n'était pas l'exemple unique de ce qu'aurait pu être – s'il n'y avait pas eu l'invention du langage, la formation des mots, l'analyse des idées – la communication des âmes. Elle est comme une possibilité qui n'a pas eu de suites ; l'humanité s'est engagée en d'autres voies, celle du langage parlé et écrit. La Prisonnière
Yesterday, on Sunday, Jules drove me in his new car to Chartres, in order to follow a guide in the cathedral (see my December 15' blog). We were overwhelmed by the beauty, intelligence of the place; you could feel that all the spirit of Middle -Ages was concentrated on religion.
Among the many links I love to find between elements of my life, I learned the number seven of my book "The Seven Lessons of Marcel Proust" was indeed an exciting choice, seven being the sumn of 3 (divinity) and 4 (air, water, fire and earth).
I became also convinced that Proust had really built his novel as a cathedral and felt delighted to remind myself that this most beautiful piece of architecture was very close to Illiers-Combray and that if a tourist wanted to visit Tante Léonie's house, Chartres was a plus.
And to end in triumph this magnificent day, at 11:30 pm, I heard my son James playing on his electric guitar a new song he wrote for his rock band KIMBERLY. I can't wait to see them on stage. His melodious song reminded me of musicians sculpted on the royal portal who were playing for God's glory, and moreover, according to the guide, for mathematics glory, an important language at that time.
And, just as certain creatures are the last surviving testimony to a form of life which nature has discarded, I asked myself if music were not the unique example of what might have been — if there had not come the invention of language, the formation of words, the analysis of ideas — the means of communication between one spirit and another. It is like a possibility which has ended in nothing; humanity has developed along other lines, those of spoken and written language. The Captive