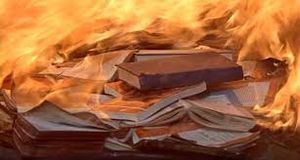 2014, l'année de tous les défis! et celui de Proustpourtous, c'est de sauver la littérature, livre par livre. D'où la création de Celsius 233 ! Si vous avez des idées, vous êtes bienvenus.
....plutôt que de reconnaître que tout ce qu'elle avait raconté dès le début n'était qu'un tissu de contes mensongers. Il en est de semblables dans Les Mille et une Nuits, et qui nous y charment. Ils nous font souffrir dans une personne que nous aimons, et à cause de cela nous permettent d'entrer un peu plus avant dans la connaissance de la nature humaine au lieu de nous contenter de nous jouer à sa surface. La Prisonnière
2014,the year of all challenges! Proustpourtous' is to save Litterature, one book at a time. Therefore Celsius 233 ! Your ideas are welcome.
... rather than admit that everything which she had told me from the start was simply a tissue of falsehood. There are similar tissues in theThousand and One Nights, which we find charming. They pain us, coming from a person whom we love, and thereby enable us to penetrate a little deeper in our knowledge of human nature instead of being content to play upon the surface. The Captive