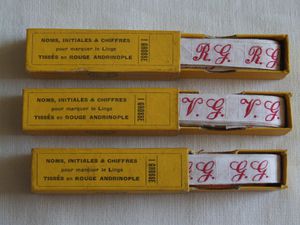 The Loneliness of the Long-Distance Reader,
un article dans le NYTimes de Colin Robinson. Il faut sauver la littérature. Celsius 233, lancé sur ce blog cette semaine, y contribuera, en faisant, par le truchement des passionnés de grandes oeuvres littéraires, lire au plus grand nombre, grâce à des moyens de portée diverse: rubans brodés du nom de l'oeuvre, dans mon cas A la recherche du temps perdu de Marcel Proust, organisation de congrès autour de l'oeuvre, engagement (moral) des porteurs du livre à le présenter à tous .... Ainsi, comprenez-vous le sens de Celsius 233? La souffrance des écrivains qui nous font partager leur découverte de notre nature profonde vaut bien un combat?
Et n'oublions pas que Marcel Proust est le saint patron des écrivains...
Les idées sont des succédanés des chagrins; au moment où ceux-ci se changent en idées, ils perdent une partie de leur action nocive sur notre coeur, et même, au premier instant, la transformation elle-même dégage subitement de la joie. Le Temps retrouvé
The Loneliness of the Long-Distance Reader,
A NYTimes article by Colin Robinson.
We must save Litterature Celsius 233 just launched on this blog is dedicated to that task, through the fans of great books ready to promote them to all, wearing a ribbon with the name of their masterpiece, in my case In Search of Lost Time,by Marcel Proust, organizing lectures, conferences, and all means of having most possible people reading the chosen book. Let's come back to basics first...
Ideas come to us as the successors to griefs, and griefs, at the moment when they change into ideas, lose some part of their power to injure our heart; the transformation itself, even, for an instant, releases suddenly a little joy. Time Regained