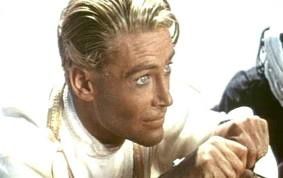 Peter O'Toole est mort.
Sur la plage des Sables d'Olonne, cette année-là, la correspondante anglaise de Martine Loizeau, Susan Nana Benson, une grosse qui revenait tous les ans, se présenta sous nos yeux incrédules, mince, resplendissante avec sa peau matte, ses grands yeux noirs et son sourire magnifiquement denté: elle avait perdu 19 kg dans le seul but d'aller saluer Peter O'Toole dans sa loge après une représentation d'Hamlet à Londres. Auparavant elle avait vu au cinéma 17 fois Lawrence d'Arabie...
Car il y a dans ce monde où tout s'use, où tout périt, une chose qui tombe en ruine, qui se détruit encore plus complètement, en laissant encore moins de vestiges que la beauté, c'est le chagrin. Albertine disparue
Peter O'Toole is dead.
That year, on Les Sables d'Olonne's beach, Martine's English pen pal, Susan Nana Benson, a fat schoolgirl who was spending two weeks in France every year, showed up and we could not believe our own eyes; she had lost more than forty pounds, and had become a beautiful seventeen year old girl, with a dark skin, wide black eyes, and a shining smile. She had lost that weight to attend Hamlet, played in a London theater by Peter O'Toole, whom she visited in his dressing room. In the months before, she had seen Lawrence of Arabia 17 times.
For there is in this world in which everything wears out, everything perishes, one thing that crumbles into dust, that destroys itself still more completely, leaving behind still fewer traces of itself than Beauty: namely Grief. The Fugitive