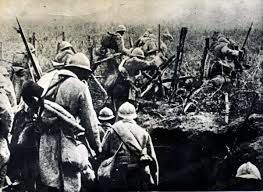 Mon fils James m'a raconté un incident avec un collègue qu'il a tutoyé après l'altercation, ce qui n'était pas le cas avant: je l'ai exhorté à ne pas adopter ces réactions de racaille, de rester respectueux; il m'a répondu vivement que c'était son droit et son choix de s'exprimer comme il l'entendait.
Et même, la guerre ayant jeté sur le marché de la conversation des gens du peuple une quantité de termes dont ils n'avaient fait la connaissance que par les yeux, par la lecture des journaux et dont, en conséquence, ils ignoraient la prononciation, le maître d'hôtel ajoutait : « Vous verrez ça, Françoise, ils préparent une nouvelle attaque d'une plus grande enverjure que toutes les autres. » M'étant insurgé, sinon au nom de la pitié pour Françoise et du bon sens stratégique, au moins de la grammaire, et ayant déclaré qu'il fallait prononcer « envergure », je n'y gagnai qu'à faire redire à Françoise la terrible phrase chaque fois que j'entrais à la cuisine, car le maître d'hôtel presque autant que d'effrayer sa camarade était heureux de montrer à son maître que, bien qu'ancien jardinier de Combray et simple maître d'hôtel, tout de même bon Français selon la règle de Saint-André-des-Champs, il tenait de la déclaration des droits de l'homme le droit de prononcer « enverjure » en toute indépendance, et de ne pas se laisser commander sur un point qui ne faisait pas partie de son service et où, par conséquent, depuis la Révolution, personne n'avait rien à lui dire puisqu'il était mon égal. J'eus donc le chagrin de l'entendre parler à Françoise d'une opération de grande « enverjure » avec une insistance qui était destinée à me prouver que cette prononciation était l'effet non de l'ignorance, mais d'une volonté mûrement réfléchie. Le Temps retrouvé
My son James told me of an incident between a coworker and himself, during which he started to say "tu" instead of "vous" to the guy: I told him he was wrong and should have kept his respectuous attitude, not to sound like a little thug. He answered that he had the choice and right to speak as he wished.
The war having thrown upon the people's conversation-market a number of new expressions which they only knew visually through reading the papers without being able to pronounce them, the butler added, "You'll see, Françoise they are preparing a new attack of a greater enverjure than ever before." In protest, if not out of pity for Françoise or from strategic common-sense, at least for grammar's sake, I told them that the right way to pronounce the word was envergure, but I only succeeded in making Françoise repeat the terrible word every time I entered the kitchen. The butler, much as he enjoyed frightening his fellow-servant, was equally pleased to show his master, though he was only a former gardener of Combray and now a butler, that he was a good Frenchman of the order of St. André dès-Champs and possessed the privilege, since the declaration of the rights of man, to pronounce enverjure, with complete independence and not to accept orders on a matter which had nothing to do with his service and, in regard to which, in consequence of the Revolution, no one had any right to correct him, since he was my equal. I had, therefore, the irritation of hearing Françoise talk about an operation of greatenverjure with an insistence which was intended to prove to me that that pronunciation was, in fact, not that of ignorance but of maturely-considered determination. Time Regained