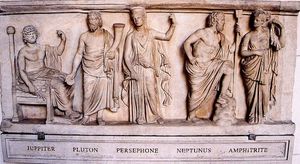 Jules m'avait donc fait souffrir la semaine dernière et non seulement je pensai aux jaloux, mais je compris peut-être pour la première fois le prix du chagrin (d'amour uniquement). Je compris aussi pourquoi pour le narrateur/écrivain la fréquentation d'Albertine était plus importante que celle d'un grand homme comme Elstir, car Albertine était capable d'engendrer cette douleur créatrice. Et j'eus l'impression de moi aussi vouloir créer mon oeuvre d'art, qui, n'étant ni un livre, ni une peinture, ni.... mais que c'était ma vie, révélée par l'auteur au lecteur. Et je remerciai le narrateur et Jules (surnommé Albertin).
Chaque personne qui nous fait souffrir peut être rattachée par nous à une divinité dont elle n'est qu'un reflet fragmentaire et le dernier degré, divinité (Idée), dont la contemplation nous donne aussitôt de la joie au lieu de la peine que nous avions. Tout l'art de vivre, c'est de ne nous servir des personnes qui nous font souffrir que comme d'un degré permettant d'accéder à leur forme divine et de peupler ainsi joyeusement notre vie de divinités. Le Temps retrouvé
So Jules had hurt me last week and not only that made me think of jealous people, but, perhaps for the first time I understood the value of grief (from romantic love). Ultimatly I understood why for the narrator/author to see Albertine was more important than to see a great man like Elstir, because Albertine could generate that creative pain. And I felt that I too could create my art, that would not be a book nor a painting, nor... but my own life, revealed by the writer to the reader. And I thanked the narrator and Jules (nicknamed Albertin).
We can, perhaps, attach every creature who has caused us unhappiness to a divinity of which she is only the most fragmentary reflection, a divinity the contemplation of whom in the realm of idea will give us immediate happiness instead of our former pain. The whole art of living is to regard people who cause us suffering as, in a degree, enabling us to accept its divine form and thus to populate our daily life with divinities. Time Regained