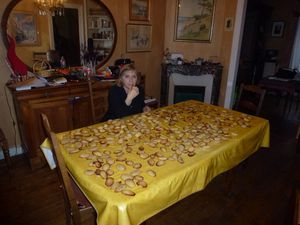 Me préparant à offrir des madeleines aux libraires qui vendent mon livre à Paris, j'ai pensé à un tableau idyllique: 360 madeleines, je ne compte pas les calories.
Je trouve très raisonnable la croyance celtique que les âmes de ceux que nous avons perdus sont captives dans quelque être inférieur, dans une bête, un végétal, une chose inanimée, perdues en effet pour nous jusqu'au jour, qui pour beaucoup ne vient jamais, où nous nous trouvons passer près de l'arbre, entrer en possession de l'objet qui est leur prison. Alors elles tressaillent, nous appellent, et sitôt que nous les avons reconnues, l'enchantement est brisé. Délivrées par nous, elles ont vaincu la mort et reviennent vivre avec nous.
Il en est ainsi de notre passé. C'est peine perdue que nous cherchions à l'évoquer, tous les efforts de notre intelligence sont inutiles. Il est caché hors de son domaine et de sa portée, en quelque objet matériel (en la sensation que nous donnerait cet objet matériel), que nous ne soupçonnons pas. Cet objet, il dépend du hasard que nous le rencontrions avant de mourir, ou que nous ne le rencontrions pas.
Il y avait déjà bien des années que, de Combray, tout ce qui n'était pas le théâtre et la drame de mon coucher, n'existait plus pour moi, quand un jour d'hiver, comme je rentrais à la maison, ma mère, voyant que j'avais froid, me proposa de me faire prendre, contre mon habitude, un peu de thé. Je refusai d'abord et, je ne sais pourquoi, me ravisai. Elle envoya chercher un de ces gâteaux courts et dodus appelés Petites Madeleines qui semblent avoir été moulés dans la valve rainurée d'une coquille de Saint-Jacques. Du côté de chez Swann
As I was getting ready to bring madeleines to bookstores that sells my book in Paris, I took that idyllic picture of a dinner made of 360 madeleines, not counting the calories.
I feel that there is much to be said for the Celtic belief that the souls of those whom we have lost are held captive in some inferior being, in an animal, in a plant, in some inanimate object, and so effectively lost to us until the day (which to many never comes) when we happen to pass by the tree or to obtain possession of the object which forms their prison. Then they start and tremble, they call us by our name, and as soon as we have recognised their voice the spell is broken. We have delivered them: they have overcome death and return to share our life.
And so it is with our own past. It is a labour in vain to attempt to recapture it: all the efforts of our intellect must prove futile. The past is hidden somewhere outside the realm, beyond the reach of intellect, in some material object (in the sensation which that material object will give us) which we do not suspect. And as for that object, it depends on chance whether we come upon it or not before we ourselves must die.
Many years had elapsed during which nothing of Combray, save what was comprised in the theatre and the drama of my going to bed there, had any existence for me, when one day in winter, as I came home, my mother, seeing that I was cold, offered me some tea, a thing I did not ordinarily take. I declined at first, and then, for no particular reason, changed my mind. She sent out for one of those short, plump little cakes called 'petites madeleines,' which look as though they had been moulded in the fluted scallop of a pilgrim's shell. Swann's Way